Gazelle Project at the 87th Thessaloniki International Fair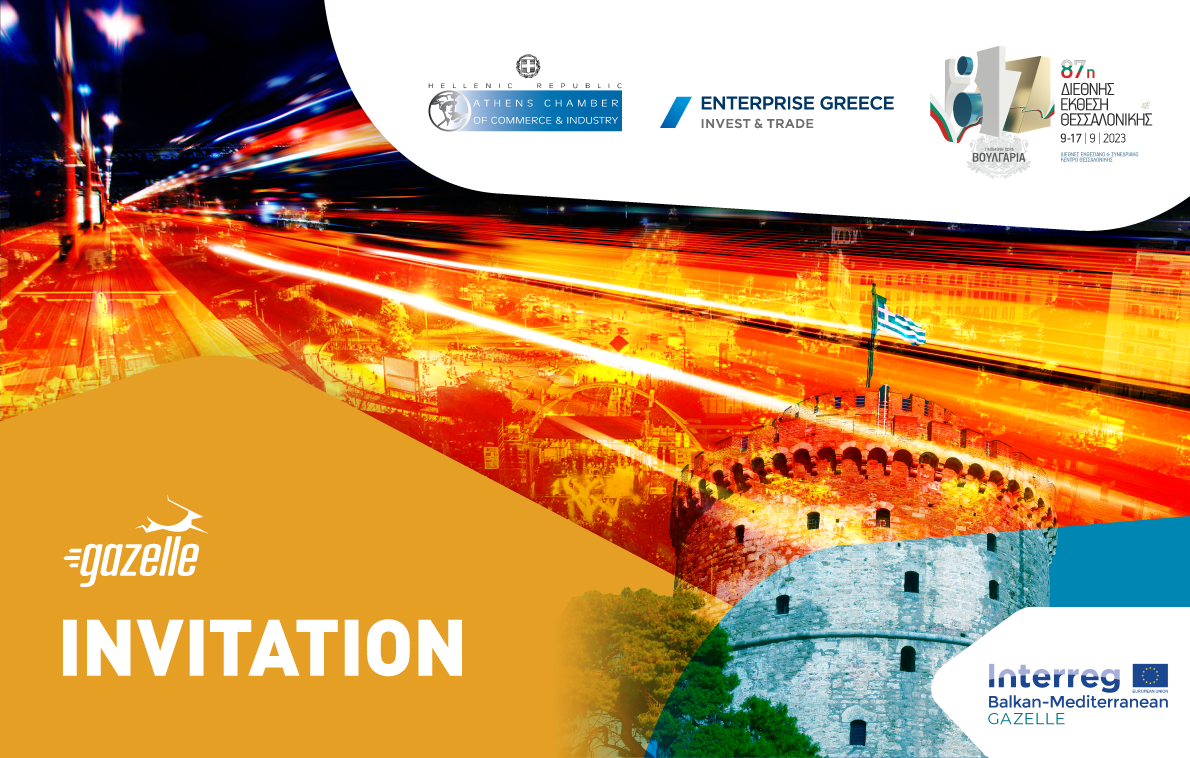 Gazelle Project, once more, is taking part in the biggest and the most commercial and popular event in Greece, the 87th Thessaloniki International Fair.
During the TIF, the Athens Chamber of Commerce & Industry (ACCI) and Enterprise Greece,  are organizing the event  "Growing the innovation ecosystem in the Balkan Med area"  on Sunday, September 10, 2023, at 10:30 am,  Pavilion 13 (stand C03), TIF – Helexpo
AGENDA
10:00 – 10:30
Registration
Welcome Remarks
10:30 – 10:40
Mrs. Sophia Kounenaki – Efraimoglou, President, Athens Chamber of Commerce and Industry (ACCI)
10:40 – 10:50
Mrs. Betty Alexandropoulou, Executive Director, Enterprise Greece

Pitch of Greek innovative start-ups

10:50 – 11:30
 

INTELIGG: Christos Ioakimidis, Georgios Charitos
DATAPHORIA: Anastasios Stamatis, Fani Sourla
SEEMS: Amanda Soukoulia, Andreas Poulios
KEYVOTO: Magda Sotiraki, Ioannis Mystridis
EggΠαίδευση: Katerina Adamopoulou, Natalia Mpaimpaka

11:30 – 12:00
Coffee break
Pitch of Greek innovative start-ups
12:00 – 13:15

ELECTRIBE:  Nikos Chatzidakis, Antonia Farsati
GRAPEVINE: Vasiliki Goulou, Zygouris Georgios
RHOE: Aimilios Mouchtaropoulos, Dominiki Meloudi
QUANTUM NEURAL TECHNOLOGIES: Dr. Aggelos Tsikas
QUETRI:  Kostas Kotsiopoulos
WASTECLOUD: Olga Skordia, Eleni Nikolidaki
EFFICIOUS-Zero Waste: Georgios Diafas, Al. Papacharalampous
EV Loader: Christos Stefanatos
EVOTROPIA: Georgios Karakatsanis
IRIDA A.I. TECHNOLOGIES A.E.: Georgios Diakomanolis

Summary and Recommendations
13:15 – 13:30
Mr. Yannis Retsas, General Director of Strategic Trade Development, ENTERPRISE GREECE
13:30 –
Cocktail
Pavilion 13 (stand C03), Thessaloniki International Exhibition & Congress Center
9-17.9.2023
87th TIF-HELEXPO: 9 Days, 200.000+ Visitors, 1.500 Exhibitors, 9 Thematic Events, 8 Music Concerts, Parallel Events and Honored Country Bulgaria.